A selection of interface design work

Point Of Sale System
CenterEdge's main product is a POS system for the family entertainment center industry. I redesigned their POS based on user feedback and usability testing, and the result was a much more user-friendly and modern looking system that could hold up to competitors in the market. Components were streamlined so that different types of sales (food & beverage vs. admission tickets, for example) would follow similar flows, making it easier for cashiers to learn. Facilities would be able to theme their screen colors using their brand colors or a predefined color theme.
Birch Lane Custom Upholstery & Swatch Ordering
In 2014, Birch Lane introduced a custom upholstery program that required an interface for swatch ordering. I designed both the Custom Upholstery landing page and the swatch ordering flow.
All Modern Brand Page Redesign
AllModern wanted to showcase products on their featured brand page instead of just brand logos. With this redesign, I introduced large aspirational imagery, different ways for users to browse and discover brands, and a persistent header to help users find their way around.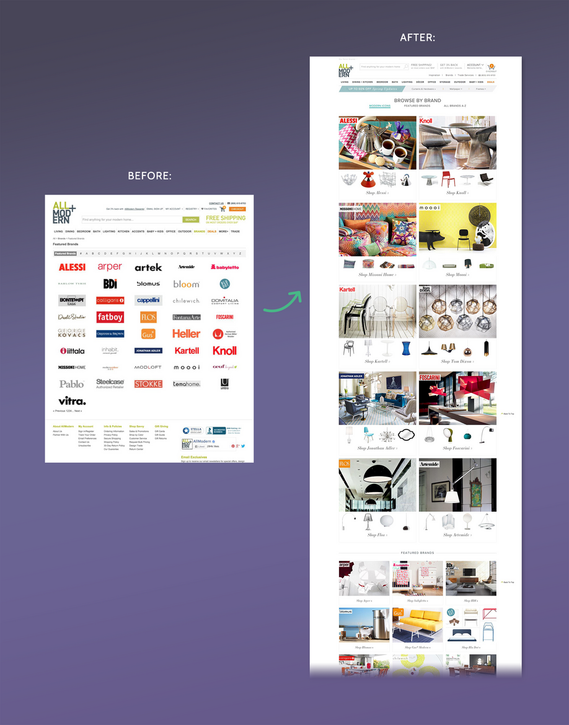 Private Label Credit Card application flow
In 2015, Wayfair introduced its own private label credit card, and I designed the UI & UX for applying for the card on Wayfair.com and its family of sites. This complex process included compliance with vendor requirements (including tons of fine print and legalese), finding a solution that worked across five brands and re-skinning all of the pages and components for each brand, and working with stakeholders from many different parts of the business.
Mobile Wireframes for Daily Sales Redesign
The Daily Sales page on Wayfair's mobile site needed more clear and focused navigation so that users could easily browse sales that interested them and skip over those that didn't. View prototype on Marvel
502 Error Pages
Error page concepts for when Wayfair & sister sites are down